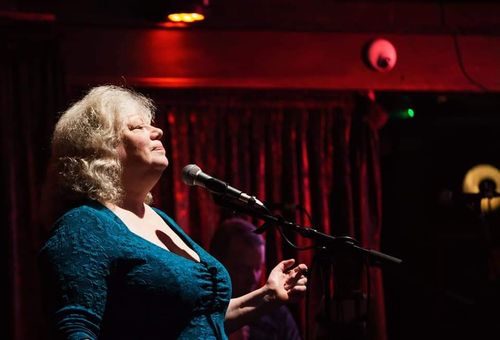 The release party at the Balham in London was a night to remember!  
Here's a link to the video. (My set starts at 2 hrs 15 min.)
I had a fabulous time! The wonderful Saskia Griffiths-Moore starts things off, and then hands over to the rest of us. (For any Tony Moore/Iron Maiden fans out there, his song is at 1 hr 8 minutes.) If you have the time, I recommend watching everyone - there are so many incredibly talented people in our group!  
"Interesting Times" is now available on all streaming services and Bandcamp too. 
NOTE: Since the pandemic began, Bandcamp has been generously waiving its fees on "Bandcamp Fridays", which means that if you buy a track on the first Friday of the month (midnight to midnight US Pacific time), the artist receives the entire amount.
Sheffield's "Yorkshire Yankee" set to release debut single "Interesting Times" 
"Yorkshire Yankee" Vikki Fielden will release her first single, "Interesting Times" on 31st August, prompted by the "Talent Is Timeless" community, which began during lockdown as an age-positive acoustic songwriting competition, the brainchild of folk singer Saskia Griffiths-Moore. 
Winner of the John Birmingham Cup songwriting competition in 2013, Vikki considers herself a "Yorkshire Yankee", having moved from MoTown to the Steel City in 1999, and even wrote a parody, "Don't Know the Words for My Favorite Things" – about the differences between US and UK English – which was featured on Michael Rosen's popular BBC Radio 4 programme "Word of Mouth". 
Her debut release, "Interesting Times", received an Honourable Mention in the 2020 Birmingham Cup, and explores the idea that there is more than one malevolent infection causing problems in today's turbulent times. 
Joining her on the song are well-known master bodhran player Ciarán Boyle of Maltby, and singer and melodeon player par excellence Pete Grassby of Coventry, whom she became friends with as a result of attending one of the many Zoom singing sessions that sprang up when lockdown meant that people could no longer sing together in pubs. 
"I would never have met Pete if it wasn't for zoom sings," said Vikki. Ironically, the weekly session they both attend is US-based (in Corning, New York). "These sings have meant that suddenly people from all over the world can sing together in their own homes," says Fielden, "and I've made so many new singing friends I would never have met otherwise." 
"Actually, Interesting Times is just the first step" she said. "My new Zoom friends started asking why I don't have a CD available... which has given me the confidence to finally do something I've been dreaming of doing for many years." 
James Singleton of Beefstock Live Sound Hire and Recording in Derbyshire recorded Vikki, Ciarán and Pete, and Aeron Z Jones of London produced the song and also plays mandolin, guitar and bass guitar, as well as singing on the backing vocals. 
Vikki and other Talent Is Timeless participants will be performing their original songs at a release party at The Bedford in Balham, London on 31st August. 
"Interesting Times" will be available from the same date on all streaming services, and is available now on BandCamp. 
Interesting Times
Vikki Appleton Fielden
TRACK INFO 
Length: 3 min 49 sec
Release Date:
31st August 2021 
Distribution:
All digital streaming services
Vikki Appleton Fielden: 
words and music, main vocals 
Ciarán Boyle: bodhran 
Pete Grassby:
melodeon, backing vocals 
Aeron Z. Jones: 
 producer, guitars, mandolin, bass guitar, backing vocals, 
recording Aeron Z. Jones 
James Singleton/Beefstock
Live Sound Hire and Recording: 
recording Vikki, Ciarán and Pete 
Cover photo and artwork: 
Vikki Appleton Fielden 
ISIRC Code: 
GX5542100001